Make Pitäjänmäki your home base
Jokeri Light Rail or Raide-Jokeri in Finnish starts operating in fall 2023 replacing the bus route 550. It offers a comfortable and convenient connection between Itäkeskus and Keilaniemi and connecting passangers to bus, metro and train lines. With the introduction of Jokeri, the already excellent public transport connections to Pitäjänmäki will improve further when passangers from the East Helsinki and West Espoo gain a direct access. 
Take a step towards a greener future by moving office to Takomo Base and encouraging your staff to choose public transport instead of a car.
00

days until Jokeri Light Rail starts operating.
Get connected & choose one of the most convenient locations outside city centre.
It's simple. Send us a request and we'll give you a call to learn more about your company and what kind of premises would best suit your needs.
The Future is Greener here
Located in the heart of Pitänmäki Takomo Base is easily accessed by taking a bus or a train, cycling, walking or driving. Get yourself acquainted with the lovely green areas nearby and go for a walk or a run before or after work. 
Find Journey Planner for public transport here. 
No matter the season, there's always something fun for you to do in Pitäjänmäki. In spring and fall you can get fascinated by watching birds in the Iso Huopalahti bay renowned for its popularity among migrating birds. 
In the winter there's no shortage of activities either. For cross-country skiers the ski tracks are almost close enough to ski to work, but if snow is not your element, why not try tennis, badminton or padel in Talihalli. And in the summer you can play regular or frisbee golf or engage in any number of activities in the Tali area.   
Where's the bus stop?
- Jokeri Light Rail 100 m
- Helsinki city center 7 km
You're never far from home
Takomotie is easy to access from everywhere around the Metropolitan area thanks to its location close to all the main roads. Here are a few examples of travel times to different destinations: 
Kirkkonummi: public transport 45min, by your own car 33min
Klaukkala: public transport 50min, car 24min
Korso: public transport 45min, car 25min
Nummela: public transport 50-60min, car 35min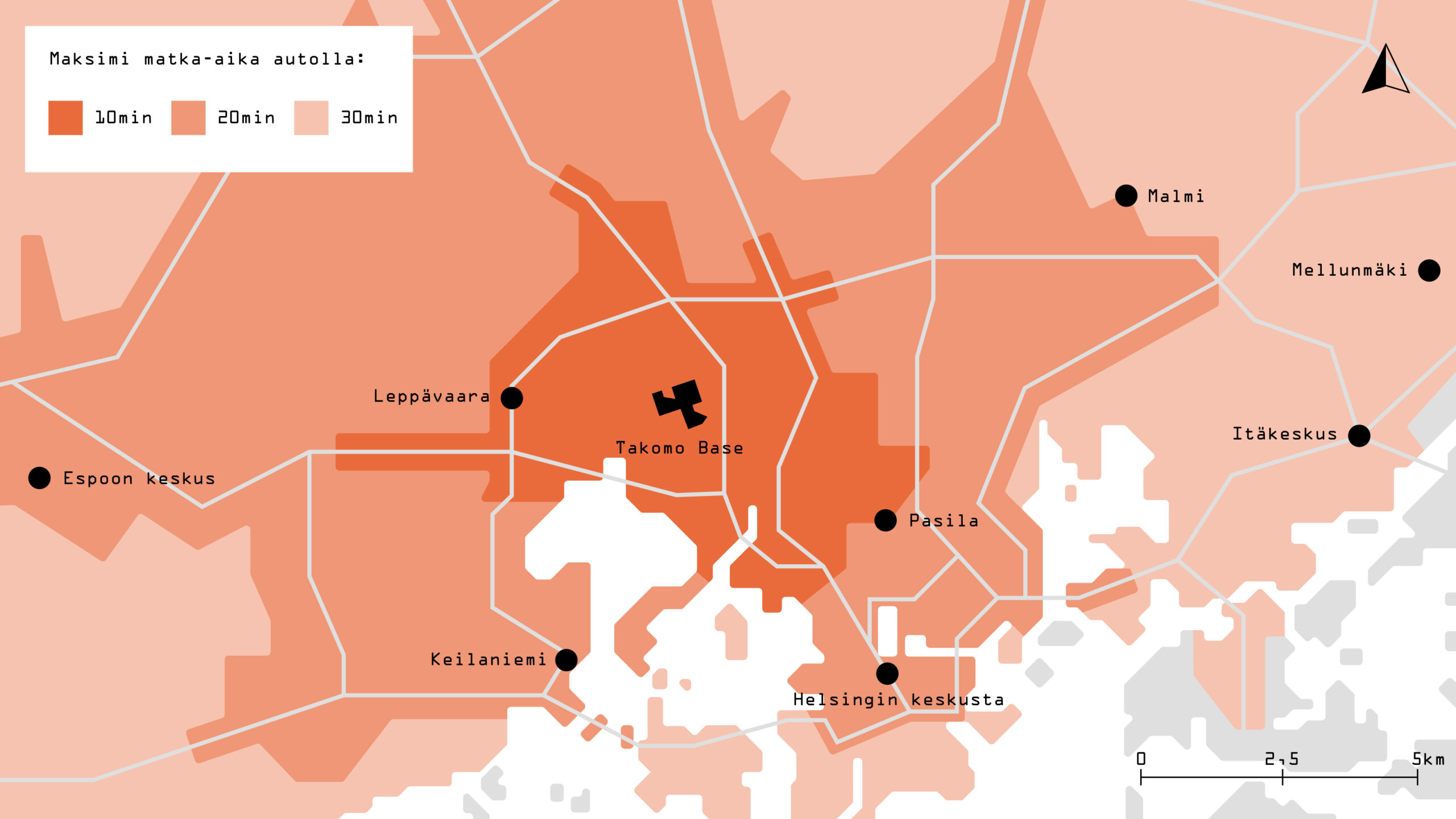 All sorts of sports, pick yours!
The variety of different sport and other activities in Pitäjänmäki is almost unparalleled. There's a great gym free to use in Takomo Base itself, but if you are already a member of some other gym, you'll probably find it just around the corner ( e.g. Fitness 24/7, EasyFit, Elixia, PTVGYM). Or get your shorts on and head out to Talin Liikuntapuisto (500m) to play some padel, tennis or badminton or go bowling! You won't even need shorts for that.
In the summer you can hit the greens at Helsingin Golfklubi located just 1,5km from Takomo Base. It has never been this easy to take your clients for a round of golf not to mention how much time you save not having to take the trip outside of the city. During the cold season you can stay in shape and perfect your swing in a training center for golfers (Golfkuntosali, Höyläämötie 7).
Ski tracks at your doorstep